Compost turner.TG 301
The mechanical roller drive, the cost-effective alternative
Working width: 3.5 meters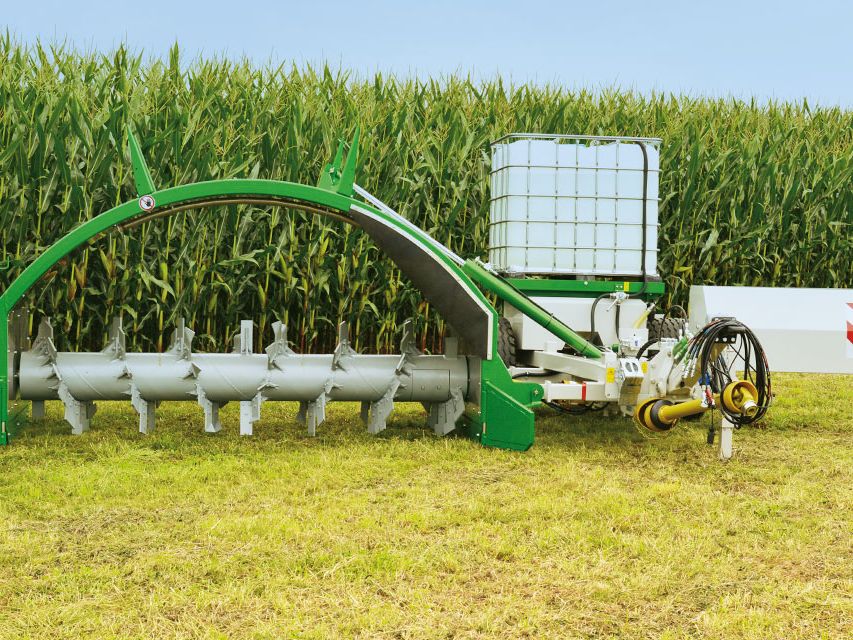 Ideal for field edge, small site composting and organic farms with composting up to 6,000 tons per year.
Conversion capacity up to 700 m³/h.
Small machine; the TG 301 is only 3.83 m long.
Low maintenance costs, simplest maintenance.
Easy handling, simple operation.
The massive arch construction of the tunnel made of 6 mm steel achieves a very great stability, has no weak corner points and the Powder coating prevents corrosion.
All wear plates are made of chrome steel.
Robust, balanced transfer shaft that properly transfers the material to be composted (from the inside to the outside).
Fast aerobic composting; within 8 - 12 weeks, depending on the material.
Large wide tires and thus little ground pressure.
Thanks to swiveling side weight; protection of field and field paths and optimal weight distribution.
This reduces the total weight of the machine up to 1,500 kg.
Large Support wheel of the transfer tunnel. Swiveling without tools and in seconds. (The road transport with the wheel swung back is possible without any problems).
Many options retrofittable such as:
Simple fleece undercutting; eliminating the heavy manual labor of wet fleece.
Side offset (skew the tunnel to keep the rent where you want it.
Complete irrigation system.
and more
Compost Turners
Technical data TG 301
Conversion rate up to 700 m³/h
Conversion shaft width 3.0 m
Total width in transport position 2.15 m
Total length 3.83 m
Tunnel height inside dimension 1.65 m
Total height
(Support wheel swung away, transport position) 3.8 m
Ideal working speed 300 - 400 m/h
Weight (basic equipment) 3,650 kg
Rent width x height 3.0 x 1.5 m

Prerequisites for the tractor
For tractors with total width up to 2.5 m
For tractors with min. 70 to max. 120 hp
For tractors with a super creeper gear: driven in 1st gear between 300 - 400 m/h at 540 rpm at the PTO
If the tractor drives faster than 400 m/h, a drive axle (optional) must also be ordered
Working pressure of the tractor 190 - 200 bar
The tractor needs for the standard version of the TG 301 a double acting valve with float position (these are two plug-in couplings)

Basic equipment TG 301, mech. version
Tunnel with chrome steel plates, direct drive on transfer shaft
Large support wheel outside on the tunnel (swiveling)
Feeding shields mechanical
Braked axle, hand brake, parking brake
Wide tires 19.00-45/17 AW
Lighting system
Hitch front: DIN towing eye
Tail weight
Side weight (swings out mechanically with tunnel lowering)
PTO shaft with shear bolt


Options for TG 301
Side weight, hydraulically swiveling (via control valve tractor)
Hydraulic feed plate right (via control valve tractor)
Water spray bar with nozzles
Complete Irrigation system hydraulically driven incl. water pump, Spray bar with nozzles, tank frame, 1'000 l tank (via control valve. Tractor)
Double water tank with double tank frame (2000 Liter)
Hydraulic articulated drawbar for optimum ground hugging (via control valve tractor)
Hydraulic lateral offset (via control valve tractor) Due to inclined position of the Tunnel the rent does not wander into the country, resp. on squares is the Rent always easy to move.
Fleece guides front and rear
Tow ball Scharmüller K80 or Piton
Hitch rear
Drive axle with stepless drive and AS tires (studs)
Electric valve with control panel; Single, double or triple (for missing control valves on the tractor)
Country specific options:
Hydraulic trailer brake
Compressed air system
Lower hitch with articulated drawbar mechanical