Compost turner SGF 2100 B & E
The small self-propelled unit - Self-propelled compost turner with electric drive
Total width 2.89 m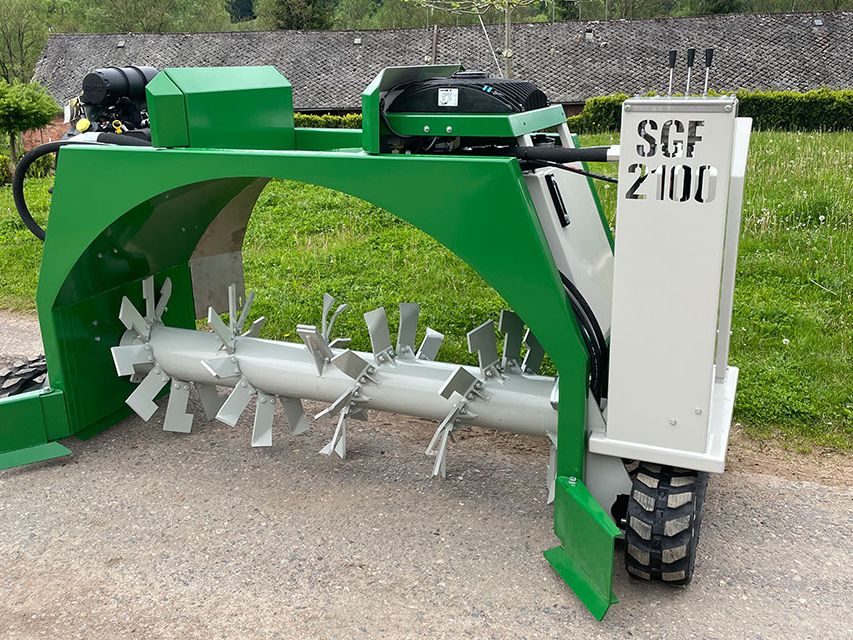 Ideal for agriculture, nurseries, organic farms, and small municipalities with composting of up to 500 tons per year.

Conversion capacity of up to 300 m³/h.
With the SGF2100 E -> composting without exhaust fumes.
Low maintenance costs and simplest maintenance.

Easy handling and simple operation.
The stable arch construction of the tunnel made of 5 mm steel provides great stability, has no weak corner points, and the powder coating prevents corrosion.
All wear plates are made of chrome steel.
Robust, balanced transfer shaft that properly transfers the material to be composted (from inside to outside).
Rapid aerobic composting within 8 - 12 weeks, depending on the material.
Drive variants
Gasoline engine: 2-cylinder / 1000 cm3 / 35 hp
Electric motor: 15 hp / 400 V -> connection: 32 A socket
Options (retrofit):
Irrigation pipe with baffle plate nozzle
Stone protection plate left and right
Hour counter
Rubber on the feeding plates (for fixed place)
Compost Turners
Technical data for SGF 2100 E & B
Conversion capacity up to 300 m³/h
Transfer shaft width: 2.0 m
Total width: 2.89 m
Total height (with tile horns) 1.6 m

Tunnel height inside dimension: 1.15 m
Working speed: max. 300 m/h
Weight: 1200 kg
Required current voltage: 380 V
Required current: 32 A
Pile width x height: 2.0 x 0.9 m
Basic equipment:
Gasoline engine 25 kW or E-motor 15 hp - connection 32 ampere
Machine for working width up to 2.1m
Hydraulic system with LS pump
Mechanical valves
Tracked undercarriage
Fixed feed blades
Fleece undercarriage
Options for SGF 2100 E & B
Irrigation pipe with baffle plate nozzle
Stone protection plate left and right
Hour counter
Rubber on the feeding plates (for fixed place)