Compost turner SGF 3200
This machine is specially designed for entrepreneurs who compost 2 000 - 10 000 tons per year
Working width up to: 3.5 meters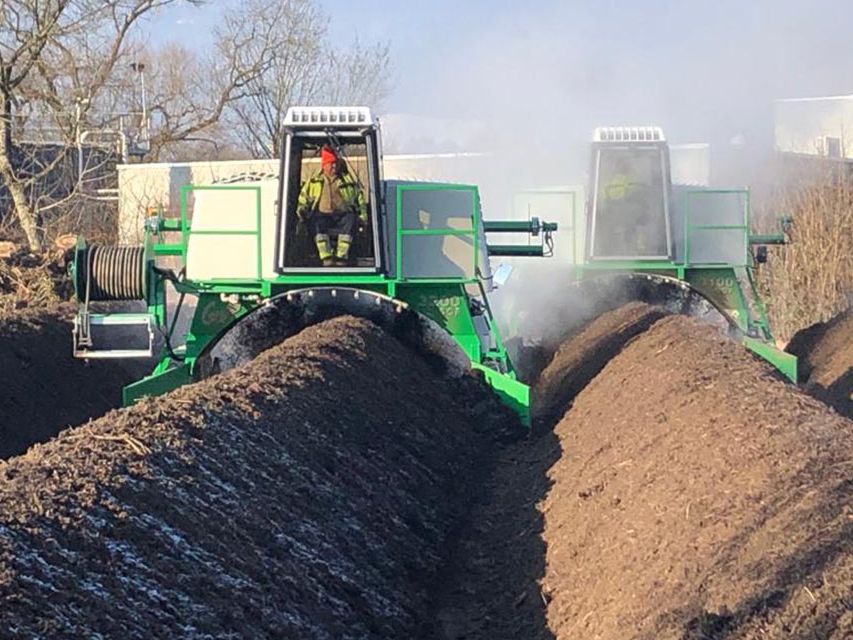 Ideal for larger companies and communes with composting from 2,000 to 10,000 tons per year.

Conversion capacity up to 1000 m³/h.
Hydraulic - infinitely variable - all-wheel drive allows turning in the smallest place.
Height-adjustable relief chassis automatic for turning - with tank steering
Easy operation with the single lever control with automatic speed control. Allows for automatic driving.
Sour Danfoss control electronics
.
150 hp Perkins engine with particulate filter complies with latest emission regulations.
The massive arch construction of the tunnel made of 6 mm steel achieves a very great stability, has no weak corner points and the Powder coating prevents corrosion.
Wear plates made of chrome steel.
The Transfer shaft is hydraulically driven, infinitely adjustable and reversible (forward and reverse rotation of the shaft) - independent of the motor speed.
Overload protection. Travel speed is automatically reduced.
Robust, balanced transfer shaft that properly transfers the material to be composted (from the inside to the outside).
Compact design; machine width 4.0 m / windrow width up to 3.5 m
Fast aerobic composting; within 8 - 12 weeks, depending on the material.
Options retrofittable such as:
Fleece winder with quick change system
Complete irrigation system.
Automatic monitoring systems to protect the machine:
Too much / too little hydraulic oil
too warm hydraulic oil
too little system pressure
Pressure of the engine oil
temperature of the engine
Water temperature
Wall pressure
Compost Turners
SGF 3200 technical data.
Conversion rate up to 1000 m³/h
Engine power with particle filter 150 hp
Dislodging speed up to 3.5 km/h
Working pressure of the hydraulics, roller up to 320 bar
Working pressure of hydraulics, LS pump up to 210 bar
Tunnel width 3.0 m
Working width up to 3.5 m
Total width without web winder 3.9 m
Total width with fleece winder 4.77 m
Total length (tags folded) without fleece winder 2.5 m
Total length (tags folded) with fleece winder 3.5 m
Total height (standing/riding) 3.6/3.85 m
Tunnel height (standing/driving) 1.65/1.85 m
Working speed, ideally 300 - max. 400 m/h
Weight 5'500 kg
Rent width x height max. 3.5 x 1.6 m
Dimensions for transport (LxWxH)
2.52 x 4 x 2.95 m (without fleece winder)
2.52 x 4.65 x 2.95 m (with fleece winder)

Basic equipment for SGF 3200
2-door driver's cab

Air conditioning

Heating

Comfort seat

Single lever control

Tempomat

Radio

Diesel engine Perkins Tier 4i (150 hp)with original particulate filter

Control systems to monitor the hydraulicunits and engine

Lighting system with 3 LED working lights

Front and rear wipers

Tires 26 x 12.00-12 PR

Options for SGF 3200
Even, Effective and efficient loosening of the compost material so that the Oxygen can circulate optimally. Thus we grant an optimal rotting process. On the basis of the white line you can see impressively the Loosening before and after the transfer.
Fleece winder hydraulically adjustable in height with quick change system
Remote control for fleece winder (1-man operation)
Simple irrigation with water bar, connection on the side left and right
Electric shut-off of the water bar via switch in cabin
Hose reel with automatic winding, unwinding, up to approx. 80 meters
Hose reel with additional hose guide (if over 80 meters desired)
Reserve valve in valve bank (for retrofits of e.g. winder, irrigation, etc.)
Electric motor with control cabinet and socket instead of diesel engine
2 exterior mirrors
Active carbon filter for cabin
Rear view camera