Compost turner TG 263
The 3-point system
Working width: 2.6 meter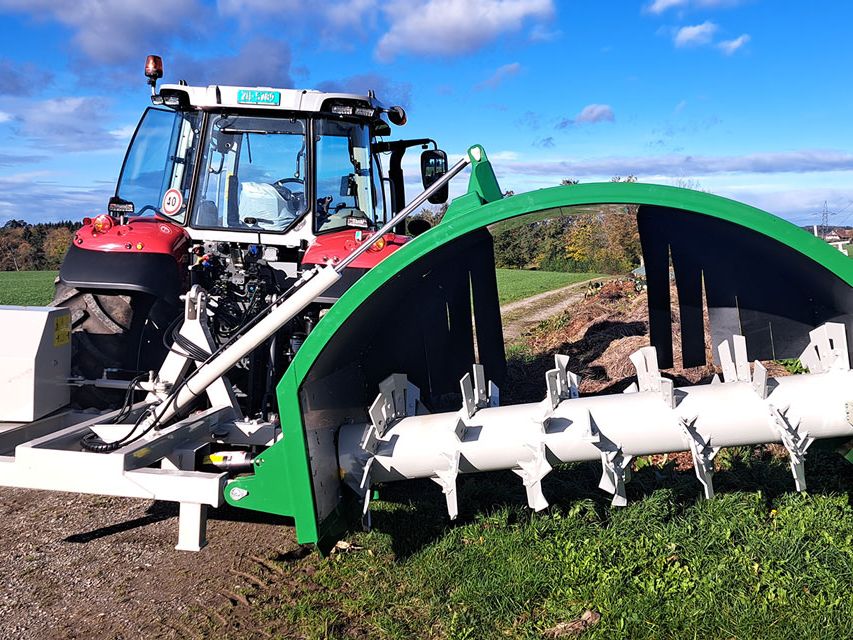 Your advantage
A great advantage of this machine is its compact length (< 2m). The total weight is reduced to 2.2 t.. The 3-point beam fits both tunnel models 2.6m & 3m.
Prerequisite for the tractor
3-point TG 263 is suitable for tractors from 110 hp and min. 3 tonnes payload
Irrigation
Since soil nutrition cannot be produced without water, there are several options. Ask for the most ideal solution. We will be happy to advise you.

Compost Turners

Ideal for field edge, small site composting and organic farms with composting up to 6,000 tons per year.
Conversion capacity up to 700 m³/h.
Small machine; the TG 263 is only 2 m long.
Low maintenance costs, simplest maintenance.
Easy handling, simple operation.
The massive arch construction of the tunnel made of 6 mm steel achieves a very great stability, has no weak corner points and the Powder coating prevents corrosion.
All wear plates are made of chrome steel.
Robust, balanced transfer shaft that properly transfers the material to be composted (from the inside to the outside).
Fast aerobic composting; within 8 - 12 weeks, depending on the material.
Large wide tires and thus little ground pressure.
Thanks to swiveling side weight; protection of field and field paths and optimal weight distribution.
This reduces the total weight of the machine up to 1,500 kg.
Large Support wheel of the transfer tunnel. Swiveling without tools and in seconds. (The road transport with the wheel swung back is possible without any problems).
Many options retrofittable such as:
Simple fleece undercutting; eliminating the heavy manual labor of wet fleece.
Side offset (skew the tunnel to keep the rent where you want it.
Complete irrigation system.
3. support foot
LED lighting
Water connection at the rear
Control panel for section valve
Section valve (tunnel + 1x DW)
Extension section DW
Water pump valve with flow controller